AC Repair & More In Statesboro, GA
When temperatures soar outside, you (and your loved ones) absolutely require a cool, comfortable place to cool down. A broken home air conditioning system makes life miserable for the entire household. This technology serves as a necessity today. Indoor locations quickly become oppressively hot during the summer. Don't suffer discomfort because the air conditioner stopped working correctly. Ask us to supply fast, affordable emergency air conditioner repair services!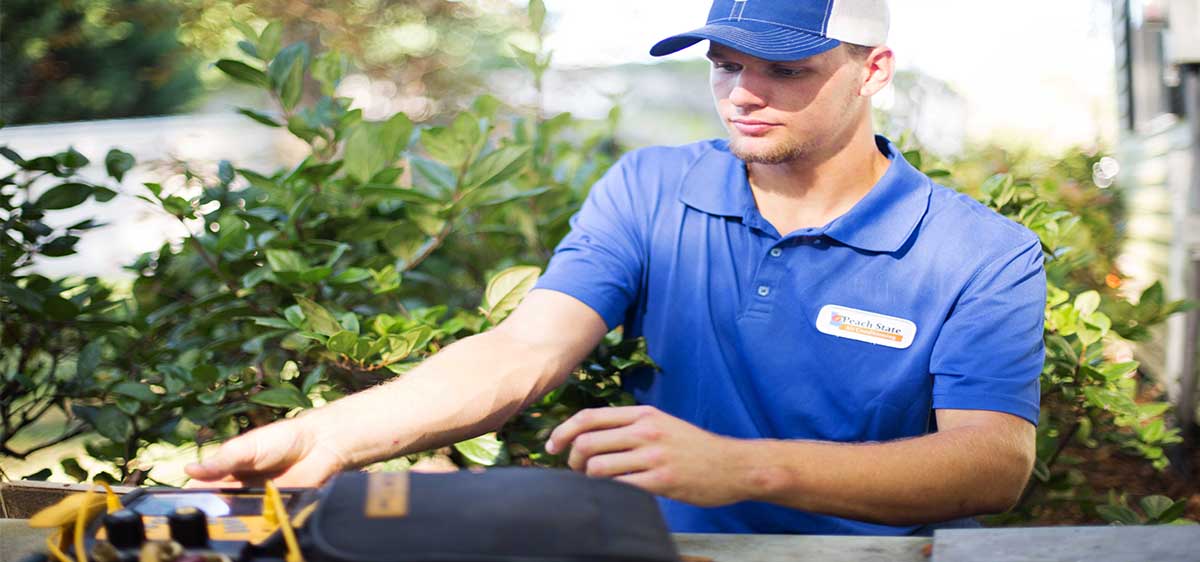 Residential Air Conditioning Services From Peach State
When you are ready to have a new air conditioning system installed in your home, do you have a professional who you can trust to do the job the right way the first time? Do you believe that everything will go to plan? Remember, installing an AC is no small feat, and should only be done by a certified professional. If the installation is improperly done or hastily carried out, you just cannot afford to deal with the consequences. 
With a professional team like Peach State performing your AC installation, you can relax in the comfort of your new AC system, and rest on the assurance of a job well done! 
From new air conditioning installations to AC replacements, and preventative maintenance to AC repairs, Peach State has you covered! We are proud to offer every kind of air conditioning service for your home or business.  
Fast Emergency Air Conditioner Repair Services
Our customers count on us to provide rapid air conditioner repairs when their air conditioning units or commercial cooling systems break down. Call us to address any HVAC problems, including any of these concerns:
Sluggish Performance

AC Has Stopped Working Completely

AC Unit Makes Unusual Sounds

AC Unit Overheats or Sparks
Depending on the age of your existing AC unit, replacement may be more cost-effective than repair. If your air conditioning repair costs are particularly high — more than half the cost of installing a replacement cooling system — we'll discuss available options. We strive to achieve your complete satisfaction.
Knowledgeable Residential Air Conditioner Installation Services
Our HVAC service technicians routinely perform skilled air conditioner installation services for residential customers and businesses. Today, many manufacturers market highly energy-efficient units. Sometimes homeowners and businesses can save money by upgrading from an older AC unit to a new, more energy-efficient model.
Get Expert Air Conditioner Maintenance Services From Peach State
Customers in Statesboro and outlying communities also frequently request air conditioner maintenance services. With our maintenance membership program, we'll check over your home comfort system on a regular basis, ensuring that it stays in top working order. Our technicians perform cleaning and maintenance services at least twice a year to help keep your valuable equipment operating efficiently.
Contact Us Today!
Don't hesitate to contact us if you require air conditioning services. Call us now at (912) 489-1585 to schedule a convenient appointment with a licensed HVAC service technician. We look forward to assisting you!