Reach Out For The Best AC Repair Services In Statesboro!
Can there be anything worse than coming home to a malfunctioning cooling system? We totally get it. At Peach State, we pride ourselves on our ability to stay on top of every challenge that comes your way — a broken down cooling system, an air conditioner in need of repairs or one that simply needs a tune-up. We also keep ourselves updated with the latest in technology and new breakthroughs, helping you to save on costs and increase the efficiency of your air conditioning system.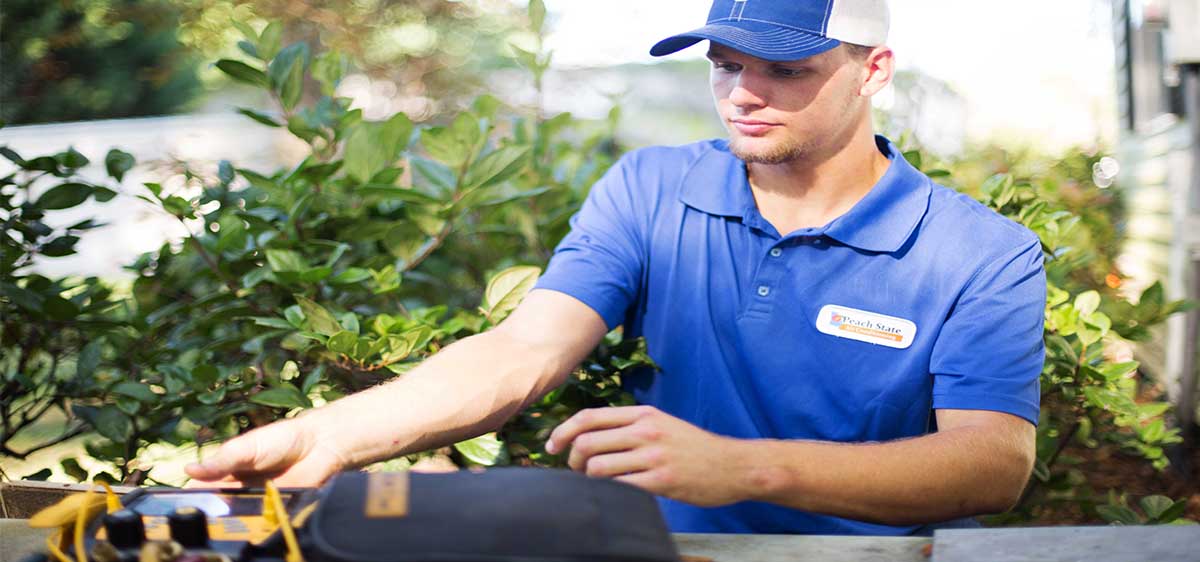 Common Reasons Your AC Is Not Working
Some of the most common AC breakdowns we see are often due to faulty installation of the system; HVAC systems are complex and even the slightest mistake during installation can lead to problems down the road, like low airflow and leaking ducts. 
The most common problem you're likely ro see is low refrigerant. When your AC is low on coolant it will make suspicious noises, like jingling or rattling, and it will not put out enough cool air to keep your home comfortable. 
Other problems could be the result of not enough maintenance. These problems are generally the result of wear and tear. Like any mechanical equipment, constant use causes wear and tear. Without regular maintenance, this typical wear and tear will lead to breakdowns.
If your home air conditioning system is struggling, Peach State will be happy to assist you — we will find out what the problem is and present you with options to repair the problem without breaking the bank. 
Why Peach State Is Your Best Choice
A leading, family-owned HVAC company, Peach State Air Conditioning serves Statesboro, GA and its surrounding areas. We have been in the business for the last 30 years and are specialists when it comes to providing top-notch quality air conditioning, installation, maintenance and repair services. 
Broken Air Conditioner? Call Peach State!
We Are Here For You. 24/7: Whether you are facing a minor AC problem or an emergency issue that needs an instant response, our dedicated technician team will be there, ready to smoothen things out. 
We Only Use Reputable Brands: We service and repair all system brands, however we install only the very best brands in the country for your AC cooling system.
Locally Owned. Dedicated To Service: Due to a local presence of over 30 years, we have garnered a rock-solid reputation for service and commitment. This spills over into every transaction that we enter into, whether it is for an old or a new customer. We are dedicated to customer service and your satisfaction is key to our business. 
No Hidden Fees. Quality You Can Trust: You will find that there are no unexpected surprises in your dealings with us. No surcharges. No hidden fees. As our customer, you can have full trust and confidence in our services, because we do not believe in hidden charges, but only in transparent pricing. 
Get in touch with us today to schedule your air conditioning repair services!