Heating Services in Statesboro GA & Bulloch County, GA
Your heater is the heart of your home. That may sound a bit dramatic, but if you've ever had a furnace die in the middle of winter, you know exactly what we mean. Without a dependable heater, your home isn't comfortable, safe, or enjoyable. That's why Peach State Air Conditioning and Refrigeration in Statesboro GA is committed to providing high-quality heating services in Statesboro and beyond
Heating Services and Maintenance
Our #1 goal is to keep your furnace in peak performance and energy-efficiency. Whether that requires repairs, maintenance, or a replacement, we're the right team for the job. Our technicians are trained and licensed to handle your Statesboro heating service needs. Our high-quality service is only matched by the quality of furnaces and heat pumps we use. When you work with us, you can look forward to top-notch heating systems and products that will keep your home comfortable for years to come.
The heating services we offer include:
Furnace installation

Heater maintenance

Heat pump repair

Furnace repair

Heat pumps

Thermostats
Questions about how we can help you with your heating needs? Call us today or reach out online to speak with one of our heating experts!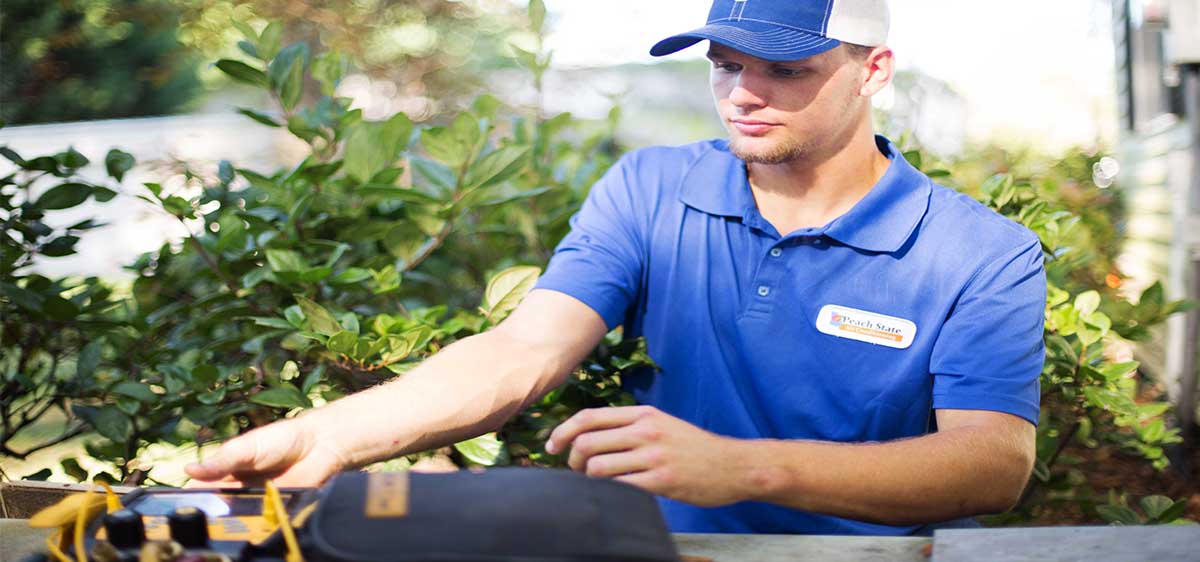 Reliable Heating Service in Statesboro & Bulloch County, GA
When your home needs heating service, you want to make sure you partner with a Statesboro Heating Contractor that you can trust to do the job right. At Peach State Heating and Air, our technicians are licensed and trained to handle the full range of heating services in Statesboro, including repairs, installation, and maintenance. We're equipped to work with all makes of models of furnaces and heat pumps, so you can feel confident that we can work with your system.
The furnace is running constantly

House feels cold all the time

Furnace struggles to turn or maintain performance

The heating bill is unusually high
 Here at Peach State Heating and Air in Statesboro GA, we value the importance of fast, affordable heating repairs. Our technicians are standing by and ready to help when your furnace breaks down. We'll come out right away to inspect your system and diagnose the issue. Once we understand the nature of the problem, we'll get to work on a long-lasting solution. Our trucks are stocked with hundreds of pieces of specialized equipment, so we're equipped to fix most issues on the spot.
Here's what you can expect from our heating repairs in Statesboro:
Heating Repair
During the long, frigid winters in Statesboro, your home becomes your oasis of warmth and comfort. That idyllic picture is only possible if your home's furnace is working properly. Furnace problems can cause your heating system to work sporadically or break down entirely, plunging your home into an icy chill. Faulty heaters also lead to worse internal air quality and higher energy costs.
Signs your furnace needs repairs:
Honest pricing with no hidden fees

Highly trained, licensed technicians

Flexible appointment scheduling

Commitment to your satisfaction

Service for all makes and models
Is your heater on the fritz? We can help! Our technicians are standing by and ready to help you with fast, affordable furnace repair. Call us today to get connected with a furnace repair technician!
Heating Installation
Peach State Heating and Air is the Statesboro Heating Contractor you can trust to do your heating installation project right. Whether you're installing a furnace in a newly constructed home or need to replace your old, out-of-date furnace, we have the right unit for you. We install heating systems from national brands known for their dependability and value. We also offer options for your needs and preferences, like energy-efficiency units.
Peach State Air Conditioning and Refrigeration have an option for everyone. We offer both furnace installations and heat pump installations. Unsure of which option is right for your home? Our heating experts can help you decide. As a general rule of thumb, homes that rely on gas service typically use furnaces, while homes heated by electricity use pumps.
How do you know when it's time for a furnace replacement? Keep an eye out for these red flags:
The furnace is 15 years or older

Spike in your energy bills

Strange noises like banging, clanging or groaning

Furnace can't keep up with your heating needs

Frequent repairs or repairs that cost over half the price of a new furnace
Ready to schedule your heating installation? Call us today or reach out online to get an estimate for the job!
Heating Maintenance
When was the last time you scheduled a tune-up for your furnace? It's ok if it's been a while! It's never too late to set-up a maintenance appointment, although we recommend having one day annually for the best results. During a furnace tune-up, one of our heating and air technicians will perform a thorough inspection and cleaning of your unit.
Here are a few of the things we include on our furnace maintenance checklist:
Remove and clean dirty burners

Check gas line for leaks

Inspect heat exchanger for cracks

Clean and adjust the pilot light

Lubricate motors and bearings

Change air filter
Regular furnace maintenance yields countless benefits for your heating system and home. One of the most popular advantages is the reduced probability of breakdowns and furnace repairs. After all, if we're able to catch a problem while it's still small, we can quickly fix it during the tune-up. Heating maintenance also maximizes your furnace's energy efficiency, leading to lower monthly energy bills.
Top Heating Company in Statesboro & Bulloch County, GA
Peach State Air Conditioning and Refrigeration is here to help you with all of your heating needs in Statesboro GA and all of Bulloch County GA. We're proud of our reputation for providing top-notch customer service, superior technical expertise, and high-quality heating products. As a locally-owned business, you can rest assured that we understand your needs as a homeowner.
Our goal is to keep your home warm and comfortable all year long, for many years to come. Plus, we'll do it all at a reasonable price! We offer honest estimates with no hidden costs, so you don't have to worry about paying for services you don't need.
Questions about our heating services? Call us today at (912) 489-1585 to speak with one of our knowledgeable heating experts!
What is the average price for an HVAC service call?
HVAC service calls typically cost between $100-$150. However, there are many factors that will affect how much a service call will cost, including what type of system you have, what brand your units are and how long it's been since your system was last serviced. If your HVAC system is damaged and needs any repairs, this may increase the cost.
How often should a heating system be serviced?
Most heating systems should be serviced once a year in order to improve the units' efficiency and help them to last longer. However, if you have a heat pump and use your system year-round or if you live in a very cold climate, you may need to have your heating system serviced once every 6 months.
How long does an HVAC system last?
Most HVAC systems last between 15-25 years, but there are several factors that can affect your system's lifespan. Some of the most common factors are the size and type of HVAC system you have, the climate you live in and how often you use your system. Having your HVAC system professionally maintained annually is essential in making sure your system lasts you a long time.